Date : September 26, 2017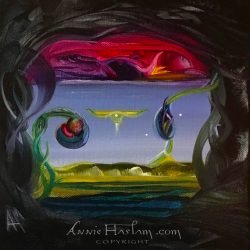 Last August my boyfriend brought me some mimosa seeds from Texas. I planted the seeds even though it really wasn't the time of year to do it the way I did. Amazingly they lived through the winter barely surviving in a spot on a windowsill in my den.
Several times I thought they were about to die as the delicate little leaves were starting to turn yellow. But they survived and while I was carefully going through their 'nursing' period with them, I was subconsciously preparing a painting. Here they are still unfolding, breathing the air, reaching for the sky!I know that when they grow into trees, their beautiful pink flowers with be so vibrant just like this painting.